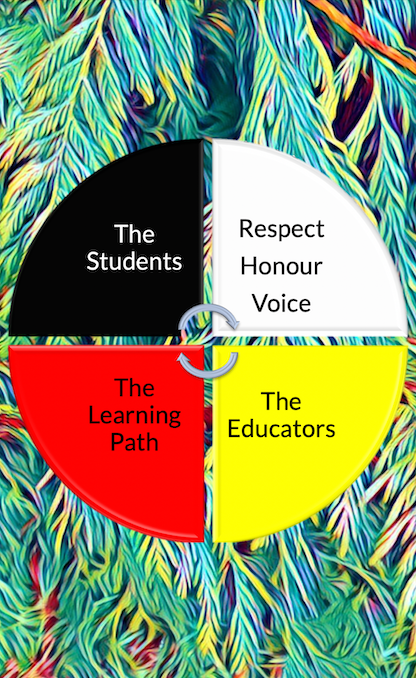 kwa a chxw ?t ?iy • Nú, chexw men wa ha7lh? • Tawnshi kiya • Qanuippit?
The territories of the shíshálh (Sechelt) Nation and the Skwxwú7mesh Úxwumixw (Squamish Nation) encompass what is known as the "lower" Sunshine Coast and beyond.
To the Northwest of Jervis Inlet are the lands of the Tla'amin (Sliammon) Nation of the "upper" Sunshine Coast.
The lands, the waters, and the First People of this place have an unbroken relationship that reaches into time immemorial.
We are grateful and respectful guests.

We also acknowledge people of other First Nations, Métis and Inuit presently live on the Sunshine Coast. Their knowledge, cultures, languages, and world views are respected and valued.

In This We Journey Together
Educators on the Sunshine Coast are on a learning journey, working with people from the shíshálh Nation, the Skwxwύ7mesh Nation, and people from other First Nations, Métis and Inuit ancestry to deepen understanding and to collaborate on conserving cultural knowledge and the development of programs and services for Indigenous students in schools. The focus is to create culturally respectful responses to the voice and vision offered by the Indigenous community. A contemporary way to look at it: reconciliation through education. To this end, there have been many initiatives and strategies implemented in the district to support students and to improve relationships between families and schools. We intend to continue to grow and learn. Today we are proud of the shíshálh Language and Culture, English Language Development, Student Success Counseling, and Education Support Programs that enhance opportunities for students.
Please explore this website further to learn more about Indigenous Learning in School District 46.
To see a video about Nurturing the Learning Spirit, Click Here
While everyone learns to go forward in this time of COVID-19, we hope to offer students reassurance, a chance to grow, and even some fun in the midst of such a worrisome time. We will pull out (virtually) the four symbolic "blankets of resilience" to wrap around them and offer teachings that reminds of the strength in:

self – family – community – culture, language, and connection to the land.